Rodent Control in Arizona
To put it mildly, rodents are a pain. When they get into your home, they go straight for the food in your kitchen which can cause structural damage around the house. Rats are particularly fond of wiring, which can be dangerous—insurers estimate that the damage they cause to wires is responsible for up to a quarter of all house fires in the US, making effective rodent control essential for your home's safety.
Expert Rodent Removal Since 2003
When you notice the signs of a rat or mouse in your home, it's time to call the pros. At Greenleaf Pest Control, we've been providing the best rodent exterminators in Arizona since 2003 and have the skills and knowledge needed to get rid of mice and rats in your home.
Same-Day Rodent Control
At Greenleaf Pest Control, we understand that having rats and mice in your home can be stressful. When mice and rats are in your home, you want them gone now, which is why we're proud to offer same-day rodent control service. When you call before noon our local rodent exterminators will come to your home that very same day. Why wait to get rid of rodents?
Common Signs of a Rodent Infestation
Sometimes it takes a while to even notice that you are sharing your home with rodents. To detect a rat infestation as soon as it occurs, look for these signs:
Bite marks or scratches on food packaging.
Damage or unpleasant smells in difficult-to-access areas of your home.
Droppings or urine. 
Visible tracks, particularly around food storage areas. 
The presence of nests, usually made of shredded paper or cardboard.
Proudly Local 
As a locally-owned and operated pest control company, we are proud to keep Arizona's homes rodent-free. We offer highly-trained mouse and rat exterminators across all of Arizona and are ready to work in your community today. 
Our 100% Satisfaction Guarantee
At Greenleaf Pest Control, we build our rodent control around your family's safety and peace of mind. Part of that is continuing to work for you until the job is done for good. We stand by our work and offer free re-treatments if you are unhappy with our work for any reason. 
What's Included in This Service
Areas We Service Around Phoenix, Arizona
At Greenleaf Pest Control, we've been providing the highest quality of pest control services in Maricopa County since 2003. Our pest control company is proud to serve our friends and neighbors in the following communities:
Image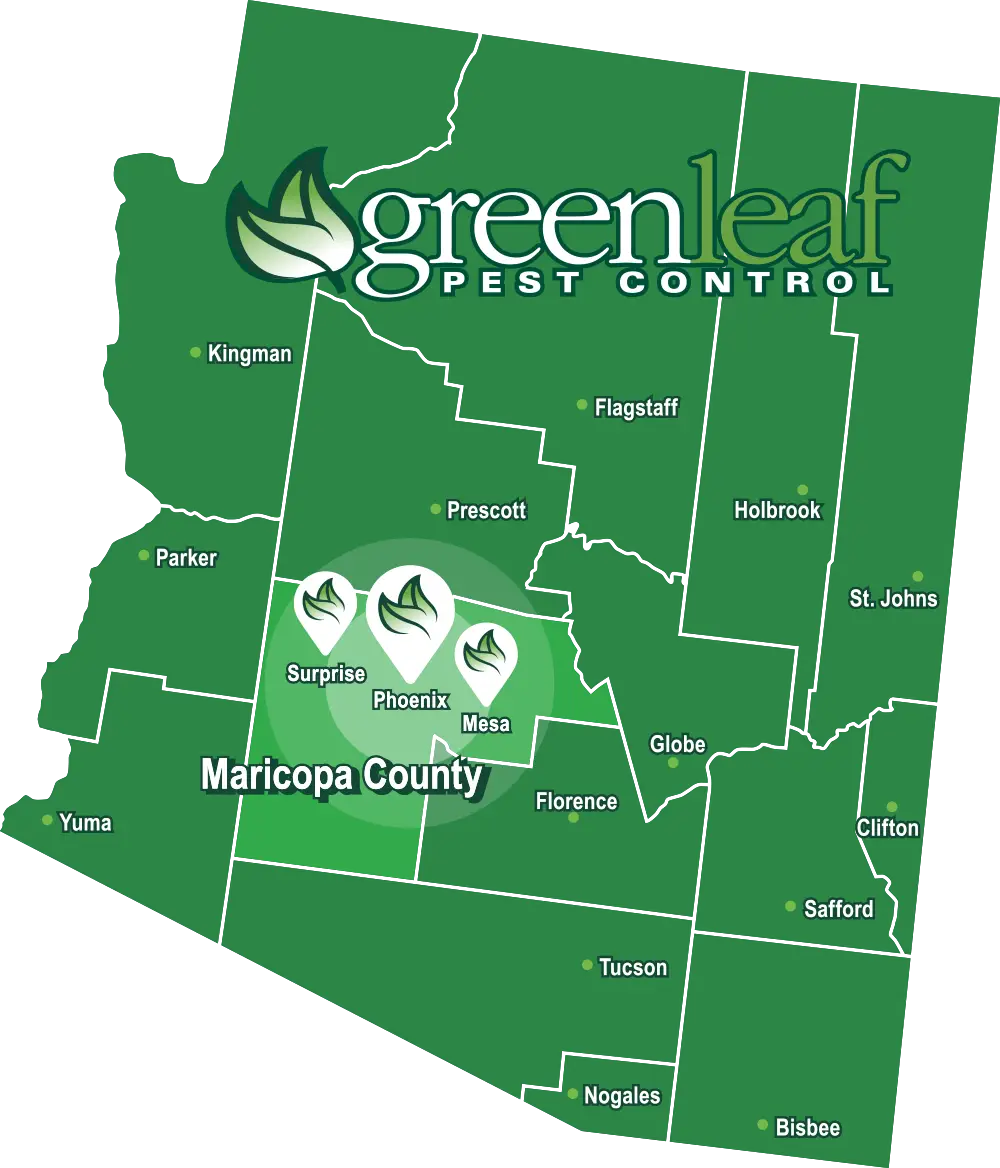 Check Out Our Other Services