Get 50% Pest Control in New River
What kind of problem are you having? Select all that apply.
Pest Control in New River
Here in Arizona, pests can pose a major problem. Whether you're already battling an infestation or you just want to prevent a future invasion, our team at Greenleaf Pest Control has the solutions you need to make your home a secure and comfortable place.
Some of the pests we can deal with include:
Roaches
Scorpions
Silverfish
Cockroaches
Termites
And more!
100% Satisfaction Guarantee for Your Peace of Mind 
When you're looking for pest control, you deserve to know that you're getting reliable service. With 20 years of experience serving the Arizona area, our team takes pride in providing the highest quality treatments. In fact, we guarantee it: all of our services come with a 100% satisfaction guarantee and warranties. If you're problems persist during your warranty time, we'll return and retreat—at no additional cost to you.
Outside of New River, we also offer our guaranteed pest control in Surprise and beyond.
Image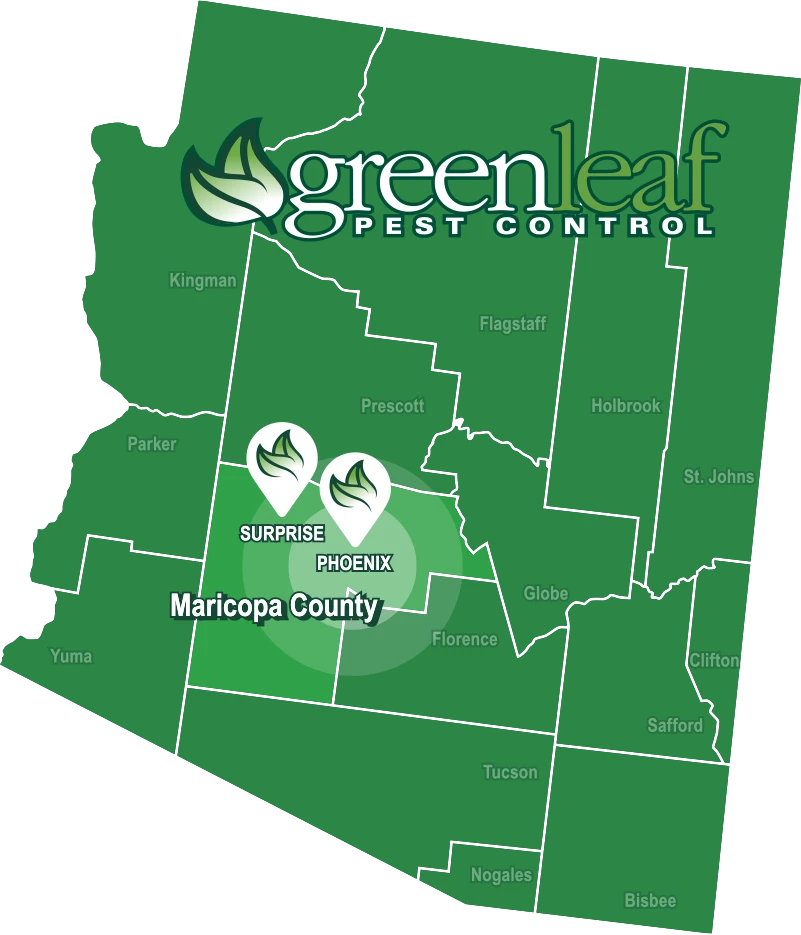 Same-Day Service for Fast Relief
Removing pests on your own can be a hassle and even dangerous, and store-bought treatments are rarely effective. Skip the stress of trying to fight infestations on your own, and turn to Greenleaf for easy, personalized solutions. When you partner with us, you'll get:
A free inspection and quote to save you time and money.
Customized treatments from our state-licensed service professionals.
Same-day service to give you the efficiency you deserve.
The satisfaction of knowing you're hiring a company that employs locally, meaning you're helping yourself and your community.
A pest-free home!
Termite Treatments in New River
Our biggest priority is the health and safety of you and your loved ones. We've created our termite control plan with that in mind, resulting in a program that eliminates termites but keeps your family safe, preserving your peace of mind. With our termite control in New River, you can expect:
A free, no-obligation quote so you can feel confident you're making the right choice.
A thorough inspection of your home, completed by one of our highly-trained service professionals.
Personalized service with a staff that has your best interest at heart.
Preventative and proactive treatments to keep your home in tip-top shape.
Pet and family-friendly treatments, so you don't have to worry if someone gets too curious.
Our 100% satisfaction guarantee!
Fast, Effective Service
Termites don't need a lot of time to chew their way through your home, which is why getting professional termite control is a necessity. To keep things moving quickly, we offer a free, no-obligation quote on the same day you contact us! 
Scorpion Control in New River
We've been providing your community with quality service since 2003, and we're proud to continue doing just that! Our scorpion control is both quick-acting, targeting existing scorpions in your home, and preventative. Our service professionals only use EPA-approved methods to control the scorpion population around your property, providing your family with long-term protection.
When you partner with us for scorpion control in New River, we will:
Send a trusted service professional to tend to your home.
Inspect your home to identify entry points and monitor any scorpion activity.
Get rid of pests that scorpions eat in order to eliminate their food source. 
Treat your home with eco-friendly solutions to eliminate breeding grounds.
Set up preventative measures to keep scorpions out for good!
Weed Control in New River
Here at Greenleaf, we do more than just eliminate bugs, we get rid of weeds, too! If you're looking to give your yard a facelift and remove pesky weeds, our weed control service is just what you're looking for. Whether you're already battling weeds or just want to keep them out, we've got a plan that will work for you. 
When you choose our weed control in New River, our experts will:
Thoroughly search your yard for weeds to determine the extent of your problem.
Create a custom plan that is unique to your property.
Apply both pre and post-emergent treatments using a weed sprayer.
Treat the rock areas of your property.
Provide a six-month warranty, so you can be as confident in our services as we are!
Save 20% Today
The only thing better than a weed-free lawn is saving money along the way. When you choose Greenleaf to handle your weed control needs, you'll save 20% on your initial invoice! If you're still searching for ways to save, check out our other coupons!
Greenleaf Pest Control Reviews