The Best Local Pest Control Company in Fountain Hills
What kind of problem are you having? Select all that apply.
Pest Control in Fountain Hills
With the hot Arizona climate, there are plenty of pests that remain active year-round and can cause you a great amount of distress. Whatever critters you are contending with, you can be sure that all of our exterminators have the training and skills necessary to handle them quickly and efficiently. We know how to deal with: 
Spiders
Scorpions
Ants
Roaches
Earwigs
Silverfish
And many more!
Save 50% On Your Initial Pest Services
We believe that everybody should have the right to a pest-free home, and not have to break the bank. To make sure that everybody has access to quality care, we are offering 50% off the initial fee on all of our pest control treatments in Fountain Hills. With many more special offers, there has never been a better time to get in touch with Greenleaf to find out how we can help.
Image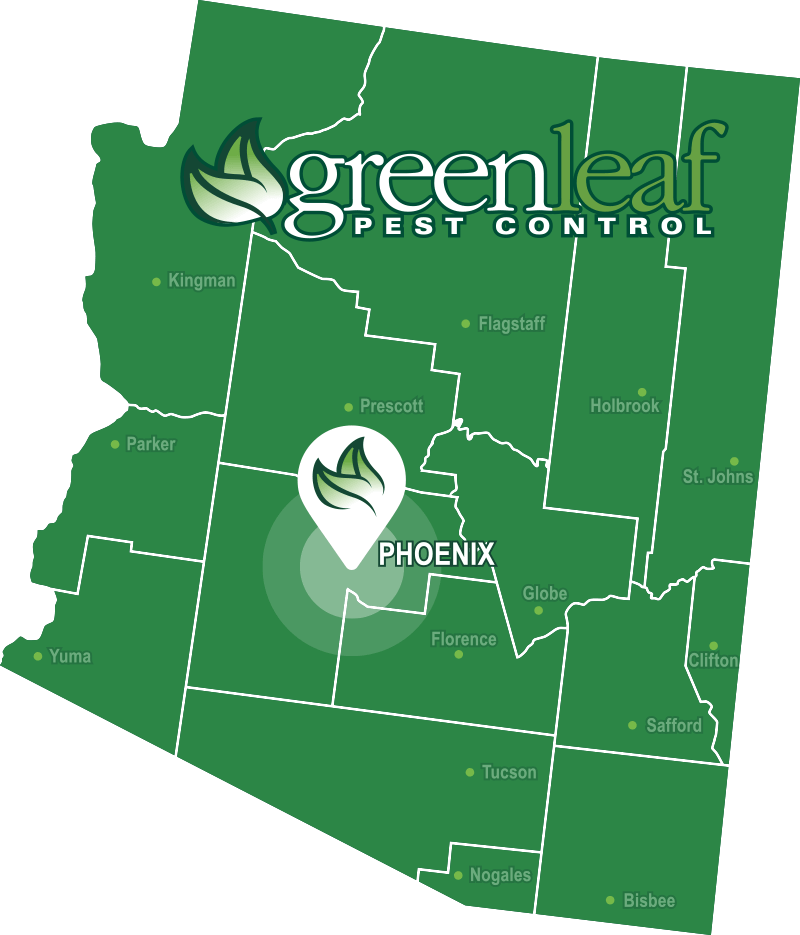 Comprehensive Pest Control Services
We understand that in order to develop our treatments based on our clients' unique needs, open communication is key. Aside from outstanding customer service, our treatment plans also include: 
A thorough home inspection to determine the identity of your pest and any active sites.
Free quotes for all services to make sure that you have all of the information that you need to make your decision.
Multiple custom treatment options, developed based on your specific needs. 
Active removal using eco-friendly treatments. 
Guaranteed pest removal for all! 
Fast and Effective Treatments 
When you are dealing with an unwanted infestation, we understand how important it is that the problem be solved as quickly as possible. To make sure that we can serve our clients in the best way possible, we offer same-day servicing when you call before noon! Our office is conveniently located in Mesa so that we can promptly service Fountain Hills, Gilbert, Chandler, and the surrounding areas.
Termite Treatment in Fountain Hills
Arizona's warm climate makes it the perfect place for termites to thrive. This puts your home at an increased risk of infestation, but with our termite inspection and treatment program, you don't have to worry! We offer both reactive and preventative treatments to protect your home, plus our satisfaction guarantee. There's no better option than Greenleaf!
When you partner with us for termite treatment in Fountain Hills, we will:
Inspect your home

for signs of termite damage.

Begin treatment as soon as the same day.

Create a protective barrier

by using in-ground liquid treatments.

Use a foaming termiticide

to eliminate existing pests from inside the walls.

Offer our satisfaction guarantee

for ultimate peace of mind.
Professional Service You Can Trust
With the rise in the number of pest control products on the shelves, it can be tempting to try to handle an infestation yourself, but calling our professional team at Greenleaf has a number of benefits:
Firstly, we offer a guarantee on all of our services that your pest will be removed, and kept away thanks to our year-round programs.
Secondly, you can be sure that all of our treatments will use only the highest quality, eco-friendly products to make sure that all services will be safe for you and your loved ones.
Greenleaf Pest Control Reviews