Trustworthy Pest Control in Scottsdale
What kind of problem are you having? Select all that apply.
Pest Control in Scottsdale
Battling a pest infestation on your own can be difficult and overwhelming. DIY treatments are tempting, but they are often ineffective and can even make the problem worse. Rather than attempt to eliminate pests yourself, reach out to the experts at Greenleaf Pest Control.
Our treatments will keep you and your loved ones safe from a variety of critters, including:
Ants
Spiders
Cockroaches
Crickets
Silverfish
Scorpions
And more!
Same-Day Service for Immediate Relief
We don't make you wait to get rid of pests when they're wreaking havoc in your home. Instead, we offer same-day services for immediate relief. Simply give us a call before noon and one of our professional exterminators will be there the very same day to eliminate what's bugging you. It's just one more way we go above and beyond for our customers!
Outside of Scottsdale, we also provide our professional pest control services in Phoenix and beyond.
Image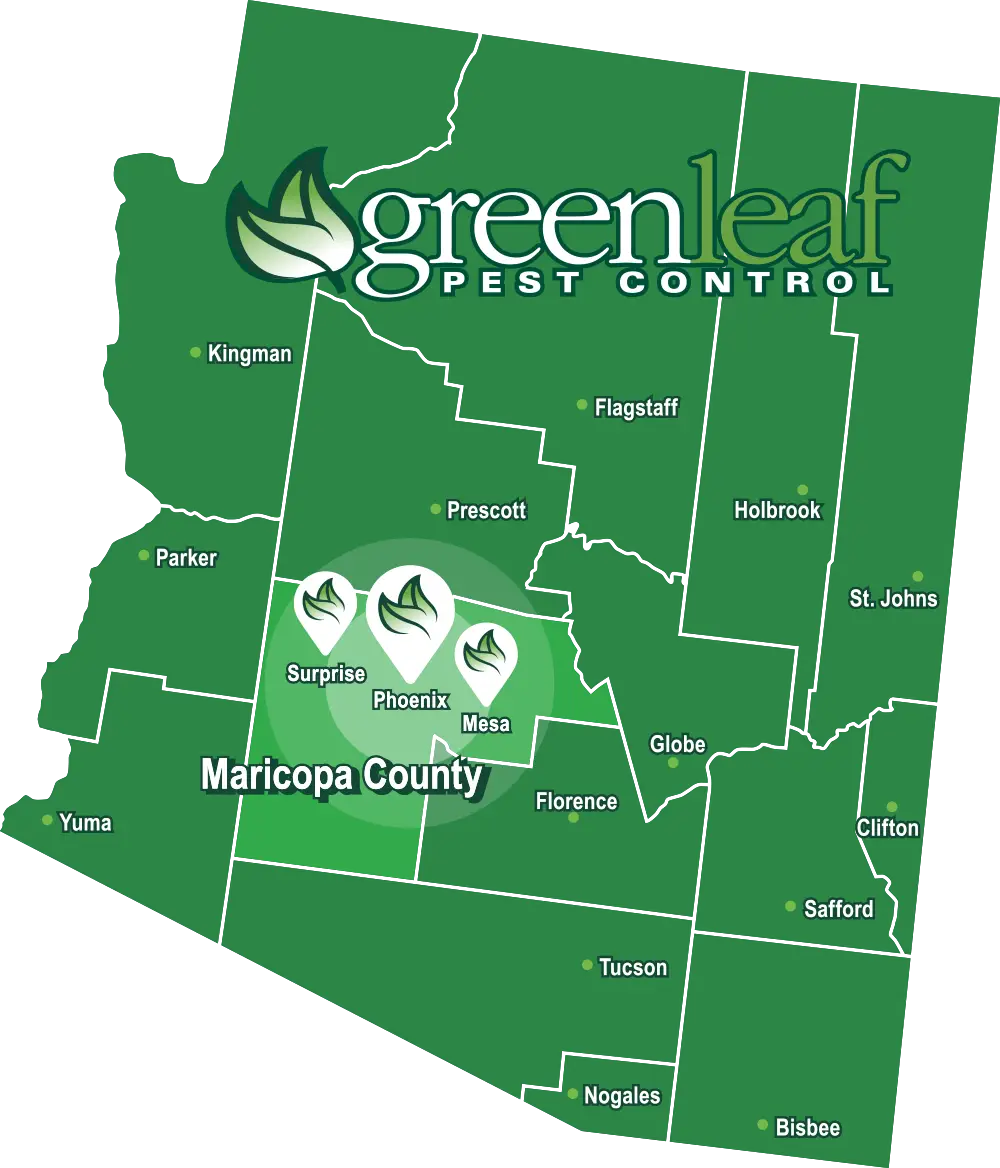 Expert Service With Guaranteed Results
No homeowner wants to deal with pests, which is why we strive to make our treatments as efficient and hassle-free as possible. Our exterminators are highly trained, allowing them to quickly assess the infestation and design a plan to eliminate it for good. Our exterminators in Scottsdale can provide:
Free, no-obligation quotes: You can feel confident you're making the right choice without feeling pressured.
Complimentary inspections: Determining what type of infestation you have can be tricky, which is why we'll come to your home and inspect for free.
EPA-approved products: Our products are EPA-approved and strategically applied away from you and your loved ones, keeping you safe.
Warrantied treatments: If you're not satisfied after we're done treating your home, let us know! We'll happily come back if necessary at no additional cost.
Termite Exterminator in Scottsdale
When it comes to termites, we know you want immediate relief from termite destruction. We also know you never want the same experience twice in a lifetime. With our comprehensive termite treatment and control, we'll take every measure to ensure your home is safe. 
What's included in our Scottsdale termite control services:
A same-day termite treatment quote over the phone with advanced technology that will render an accurate estimate within minutes of your phone call. 
Same-day services for immediate relief. 
A free termite inspection to identify the tell-tale signs and determine the nature of your situation. 
Proper treatment applications with flow meters and preventative methods of control to ensure your current infestation is eliminated and your susceptibility to future ones is reduced. 
Children- and pet-friendly treatments because your family's safety is our #1 priority. 
Strict adherence to rules and regulations for your peace of mind. 
A satisfaction guarantee, free re-treatments, and termite treatment warranties varying from one to five years.
Scorpion Exterminator in Scottsdale
No one wants to encounter scorpions in or around their home. In addition to being unsettling to look at, scorpions are capable of delivering painful pinches and stings. In fact, the Arizona Bark Scorpion's venom can be extremely dangerous to humans and pets if left untreated. If you're sick of sharing your home with scorpions, call your local exterminators at Greenleaf.
Work with us and you'll receive the following from your expert scorpion exterminator in Scottsdale:
A free inspection to identify how scorpions have entered your home.
Treatments for spiders, mice, and other pests that may be attracting scorpions.
Eco-friendly, EPA-approved scorpions treatments.
Same-day service for quick relief.
Weed Control in Scottsdale
We've been in business since 2003, so we know the ins and outs of weed removal and prevention, allowing us to give you the most effective service possible. Our weed control service tackles your problems with reactive and preventative measures, keeping weeds at bay for good.
When you entrust in our team, our lawn technicians will:
Thoroughly inspect your yard to determine what type of weed problem you're dealing with.
Create a customized treatment plan based on the findings.
Apply pre-emergent treatments to attack weeds before they can germinate, stopping them from growing.
Spray post-emergent treatments to eliminate existing weeds.
Treat gravel beds for weeds that are hiding between rocks.
Offer a six-month warranty that allows you to feel as confident about the quality of our service as we do.