Termite Treatments in Arizona
At Greenleaf Pest Control, we understand that termites can be scary, but have no fear! We are here to help. We treat each home like it's our own and we will always leave your home in better condition than we found it.  We are locally owned and operated, so we know the type of termites in the area—and how to stop them.
Free Quotes and Inspections
We use technology that allows us to give an accurate quote within minutes of receiving your call. We happily offer free inspections if you aren't sure what pest problem you're experiencing, or even if you just want a second opinion. We will send someone out to assess the problem and determine a custom solution for your situation as soon as possible.
Same-Day Treatments for Immediate Protection
Termites are known for working quickly. Luckily, so are we! When it comes to these harmful insects, we know that time is of the essence. We offer same-day service because we don't believe you should have to wait to get relief from pests. When you call us, you can expect:
Thorough inspections of your home.
Preventive or retroactive treatment, depending on your need.
Treatments that are 100% safe for children and pets.
Technology like "flow meters" to digitally ensure the correct amount of product is used.
Strict enforcement of all rules and regulations to keep you safe.
Guaranteed warranties that vary from one to five years.
Trusted Termite Control Since 2003
Greenleaf Pest Control has been operating in Arizona since 2003. We consider it an honor to be so trusted by our local community. Our guaranteed termite control plan uses different methods to ensure your house is treated based on your home's individual needs. Some of these methods include:
In-ground liquid treatments applied around the perimeter of your home.
In-wall termiticide foaming treatments are done when interior activity is present.
100% Guaranteed Service
Here at Greenleaf, customers are our #1 priority. Simply put, if you're not happy, we're not happy. This is why we offer termite treatments that include a warranty that can last up to five years. If you're not 100% satisfied with our service for any reason, we will be back to re-treat your home for free as soon as possible. We are proud to stand by the quality of our work.
What's Included in This Service
Areas We Service Around Phoenix, Arizona
At Greenleaf Pest Control, we've been providing the highest quality of pest control services in Maricopa County since 2003. Our pest control company is proud to serve our friends and neighbors in the following communities:
Image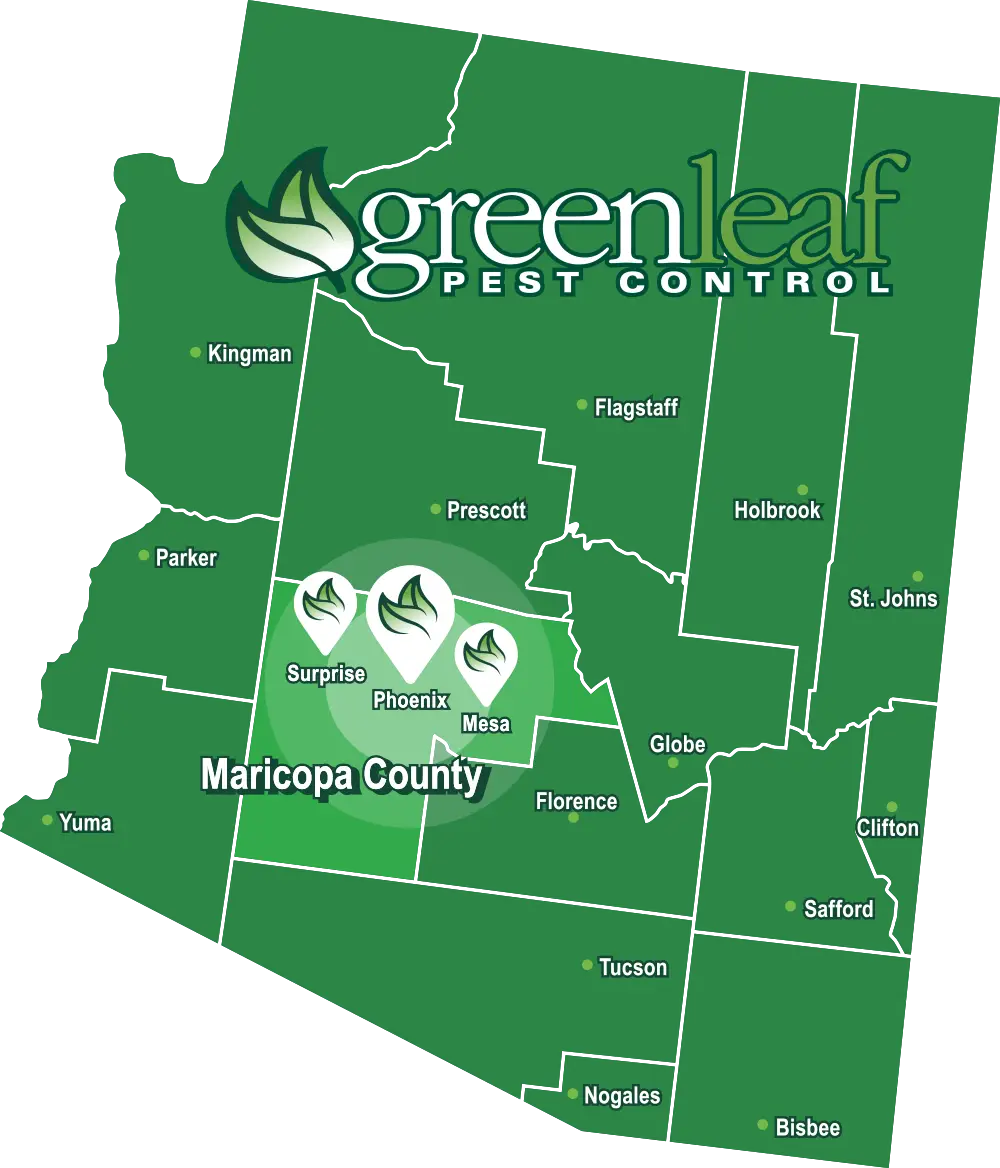 Check Out Our Other Services