Get Same-Day Pest Control in Avondale
What kind of problem are you having? Select all that apply.
Pest Control in Avondale
When it comes to protecting one of your greatest investments, don't settle for less than the absolute best. In business since 2003, Greenleaf Pest Control knows how to take care of a variety of pests under the Arizona sun. Our pest control in Avondale, AZ eliminate many unwanted invaders, including:
Roaches
Scorpions
Silverfish
Ants
Spiders
And More!
Reliable Quality With Same-Day Assistance
When your home is being overrun by pests, you shouldn't have to wait for relief. When you call on Greenleaf for help, our service professionals are ready to solve your infestation problems quickly and efficiently. Each member of our team undergoes comprehensive training and certification requirements. This provides our staff with the necessary skills and expertise to safely eradicate your pest control problems. 
Outside of Avondale, we also offer our professional pest control services in Surprise and the surrounding area.
Image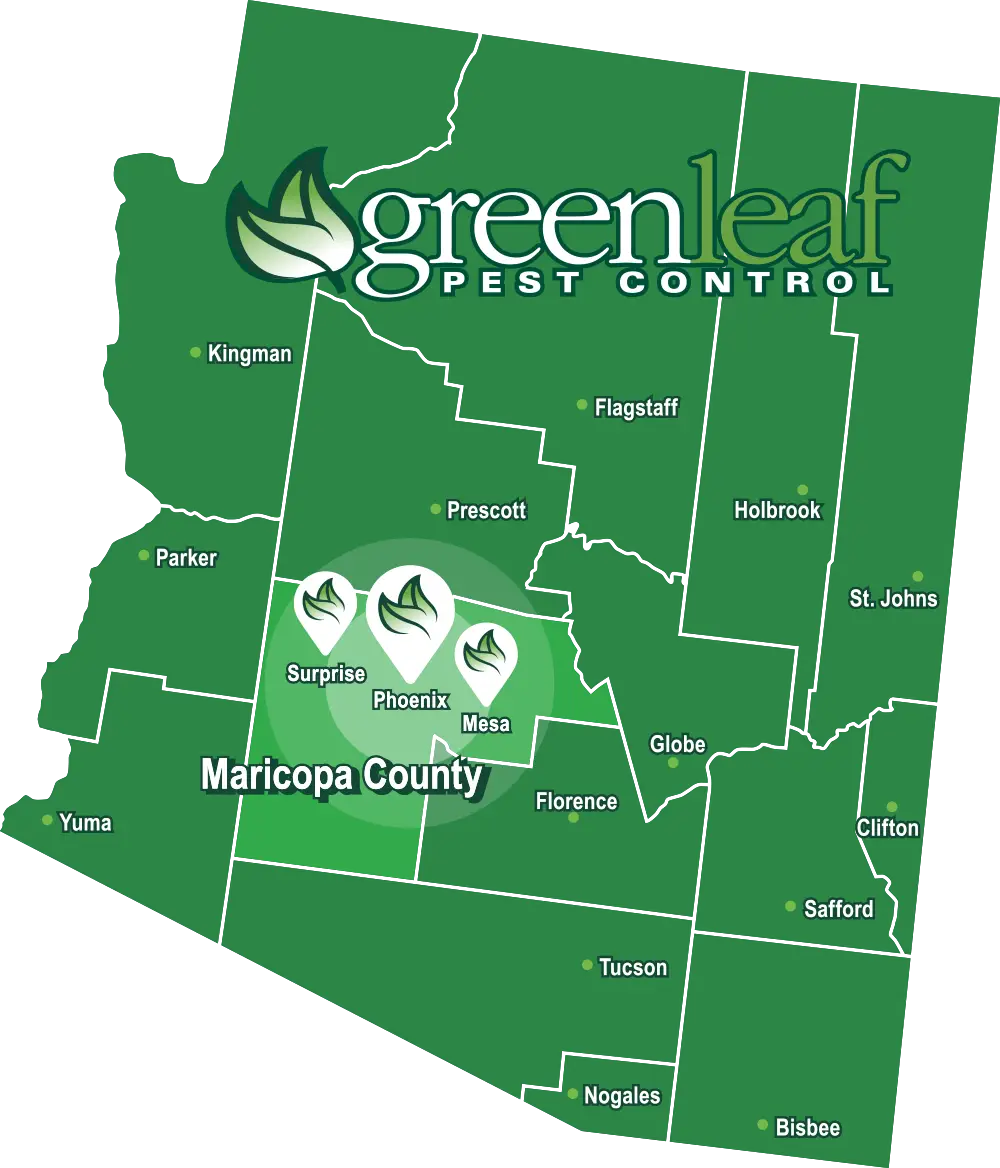 Customized Service with Proven Results
Our service professionals begin each home visit with a detailed inspection—not only examining for any existing infestations but also searching for entry points that could cause your home to be vulnerable in the future. They then create a unique treatment program specified to the needs of your home, ensuring that critters stay gone for good.
When you rely on Greenleaf to take care of your pest control needs, you'll receive benefits such as:
EPA-approved treatments meticulously applied by our service professionals
Same-day service when you call before noon
100% satisfaction—if pests return, so will we—free of charge!​​
Save 50% On Your Initial Invoice
Greenleaf is now offering our new customers 50% off their first invoice when you sign up for a year-long agreement. Check out our other coupons to get outstanding pest control at a reasonable price. 
Rodent Exterminator in Avondale
No one wants to share their home with mice—let alone rats too! These pests are quite nimble and can find their way into your home very easily through small holes or cracks bringing a variety of diseases with them.
Rats and mice take refuge in hard-to-reach places within your home including behind large appliances, walls, and kitchen cabinets. These hiding spots also present the opportunity for rodents to chew on electrical wiring or damage your home's structure. Luckily, Greenleaf has a team of excellent technicians ready to help with your rodent removal needs!
When you choose Greenleaf for rodent extermination you will benefit from:
Same-day service 

Satisfaction guarantee

Local exterminators 

And more!
Scorpion Exterminator in Avondale
For homeowners in Avondale, one of the most frightening pests to have your space invaded by are scorpions. During the summer months, in particular, the hot and dry climate provides the perfect habitat for these alarming arachnids.
When you rely on Greenleaf  for local scorpion control and prevention, we include:
Same day service—call us before noon to have your scorpion problems gone for good!
A free inspection to identify entry points and complete a thorough search.
Treatment inside and around your home for insects that scorpions are attracted to, such as spiders, roaches, insects, and lizards.
EPA-approved formulas to safely eradicate scorpions, remove their breeding sites, and prevent future infestations.
Treatments Based on Exceptional Customer Service
Greenleaf's highly trained professionals are dedicated to providing all of our customers with exceptional service. Our team of experienced technicians has seen it all—which is why we understand the importance of protecting your home and family from dangerous scorpions!
Termite Exterminator in Avondale
One of the biggest threats to any homeowner in Avondale, AZ is termites, which can wreak havoc on your home and infrastructure if left untreated. These silent destroyers go to work fast, which is why we combine both liquid and foam treatments that take action quickly and efficiently. When you choose us as your termite company, our highly trained service professionals have your back!
This includes:
A free inspection.
Same day service when you call before noon.
Highly effective treatments that are family and pet-friendly.
Guaranteed warranties to ensure satisfaction and termite protection.
Consistent monitoring to keep your home termite-free. 
Get A Free, Same-Day Termite Quote
100% Guaranteed Services
Your home and family's safety is our number one priority. If you're not happy with your service, we're not happy. This is why our termite treatments include a warranty that can last up to five years. If you're not 100% satisfied with our service for any reason, we will come back to re-treat your home at no extra cost to you.
Weed Control in Avondale
There's nothing more frustrating than spending hours in your yard planting and grooming, only to have it immediately ravaged by weeds. The warm weather and seasonal rainfall here in Avondale make it even more difficult to control invasive weeds on your own. Luckily, our lawn experts at Greenleaf offer thorough weed control methods that combine reactive and proactive measures to both eradicate any existing weeds and keep new ones from sprouting in the future.
Our trusted weed removal treatments include:
A thorough yard inspection from one of our expert professionals.
A customized weed control program for you in order to suit the needs of both your yard and schedule.
A six-month warranty to insure your weeds are gone for good.
Save 20% on Weed Control
We know that great weed control should come at a great price. That's why, here at Greenleaf, we offer 20% off your initial invoice when you sign up for our weed control program. Check out our other coupons for more ways Greenleaf can save you money.