The Best Local Pest Control Company in Anthem
What kind of problem are you having? Select all that apply.
Pest Control in Anthem
Here in Arizona, pest infestations are a common occurrence thanks to our warm climate. If swarming critters have invaded your home, it's time to take action. Here at Greenleaf Pest Control, we offer quality pest control that will rid your home of invaders—guaranteed. Between our same-day service, satisfaction guarantee, and trained professionals, we are your best bet for safe, effective removal. Our treatments are effective against a variety of pests, including:
Ants
Spiders
Crickets
Earwigs
Roaches
Scorpions
Silverfish 
And More!
Save 50% On Treatments
The best pest control in Anthem should come at the best price! When you sign up for our year-round protection program, you can receive 50% off your initial pest treatment. Want more information? Check out our coupons to find more great ways you can save.
Aside from Anthem, we also provide our pest control services in Buckeye, Glendale, New River, and beyond.
Image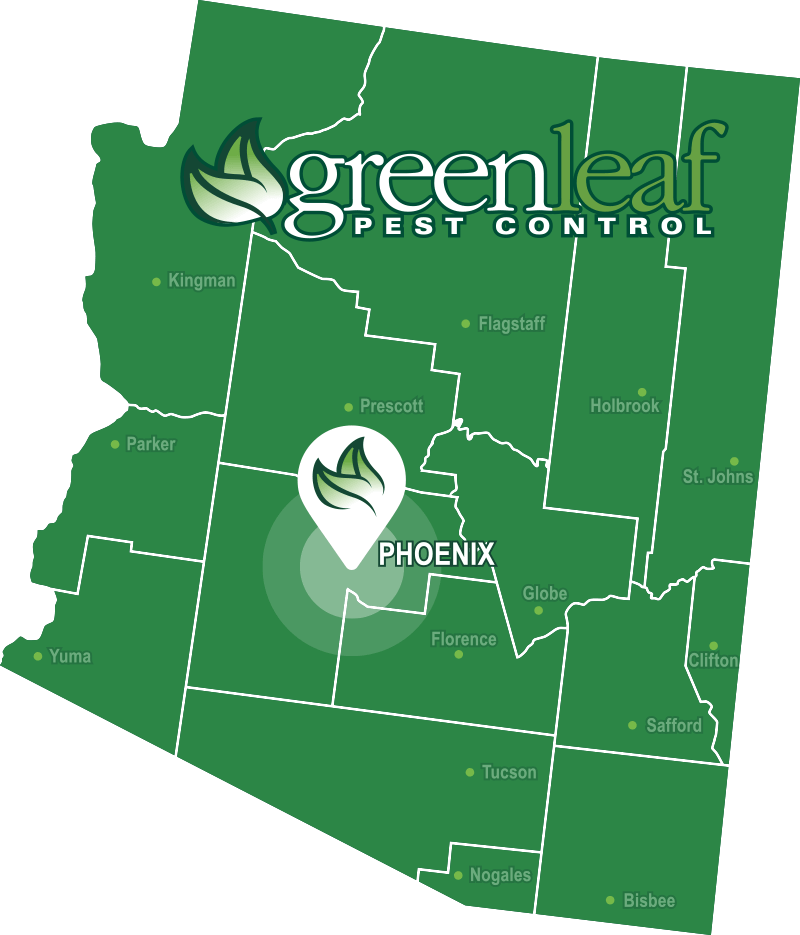 Get Fast Relief With Our Same-Day Service
Here at Greenleaf, we know that time is of the essence when it comes to removing critters. That's why we are proud to offer timely treatments that produce fast results. When you choose us for your pest removal needs, we will:
Offer same-day service for fast and effective results when you call before noon.
Send an exterminator to your home to inspect for breeding grounds and entryways.
Create a custom treatment program to rid your home of any current infestation.
Eliminate all pests with the use of family-friendly, EPA-approved formulas.
Provide a 100% satisfaction guarantee with all our treatments.
Termite Control in Anthem, AZ
Termites are costly critters, causing over 5 billion dollars of damage each year in the United States alone. Subterranean termites can be particularly destructive, and as the most prevalent species in Arizona, it's important to protect your home and prevent these hungry insects from eating away at your biggest investment. Here at Greenleaf, we proudly offer comprehensive termite treatments to protect your home now and into the future! Get a free, same-day termite quote today!
Long-Term Protection For Your Biggest Investment
Termites can be difficult to detect, making it hard to uncover an infestation until after the damage has already been done. That's why our service professionals are trained to detect the hidden signs of an infestation that can be hard to detect on your own, including hollow wood, discarded wings, or mud tubes on your home's foundation. Whether you think you have termites or not, Greenleaf's skilled service professionals are here to give you peace of mind that your home isn't being eaten out from under you.
Scorpion Control in Anthem, AZ
Scorpions are natural predators, making their removal from your home a risky and intimidating endeavor. If you need expert help eliminating these venomous invaders, Greenleaf's skilled service professionals are up to the task! Our services include:
A home inspection to uncover entry points and find existing invaders
Insect treatments to eliminate scorpion's food supply
Removal of any scorpions currently in your home
Advice from a knowledgeable service professional to help you keep scorpions out for good 
Same-Day Service to Give You Fast Relief
Scorpions can pop up unexpectedly, making removing them from your home an urgent and unexpected matter. That's why we are proud to offer same-day services to give you quick relief from unexpected household critters. Give us a call before noon, and we will do our best to treat your home that same day!
Weed Control in Anthem, AZ
With Greenleaf's quality weed control services, you can eliminate unsightly weeds from your outdoor spaces, giving you a picture-perfect place to relax with friends and family. With pre- and post-emergent treatments, our technicians are able to effectively eliminate current and future weeds, giving you a weed-free environment in no time! 
Our weed control treatment plans include the following:
A thorough inspection to determine your individual needs.
Create a customized plan and schedule treatment as soon as possible.
Weed control power sprayer for pre and post-emergent treatment.
Treat all rock areas around the home if your lawn consists of rocks.
A six-month warranty to ensure you are satisfied with our treatment.
Save 20% On Weed Control
Do you want to spend less time working in your yard and spend more time with your family? Then you need Greenleaf. Our effective weed control methods can have you working less in your yard and out enjoying everything Anthem has to offer. The best part? When you sign up for our weed control today, you can save 20% on your initial service.
Why Choose Greenleaf Pest Control
As a locally owned and operated business, Greenleaf works hard to offer high-quality services to our neighbors in Anthem, Arizona. That includes:
Excellent customer service.
Highly trained staff, skilled at managing all of your pest control needs.
Open and honest communication to keep you informed on how our services are progressing.
Free quotes and free inspections.
Warrantied treatments to give you guaranteed results.
Greenleaf Pest Control Reviews