Local Pest Control Experts in San Tan Valley
What kind of problem are you having? Select all that apply.
Pest Control in San Tan Valley
Our pest exterminators are trained to handle just about anything San Tan Valley can throw at us. We've been doing pest removal in Arizona since 2003—we've learned a lot about how to do it well over the past two decades! We offer pest control for:
Ants
Crickets
Spiders
Silverfish
Roaches
Scorpions
Earwigs
And more!
 
Whatever pests you come across in your home, we're equipped to take it on. Aside from San Tan Valley, we also provide our pest control services in Mesa and beyond.
Image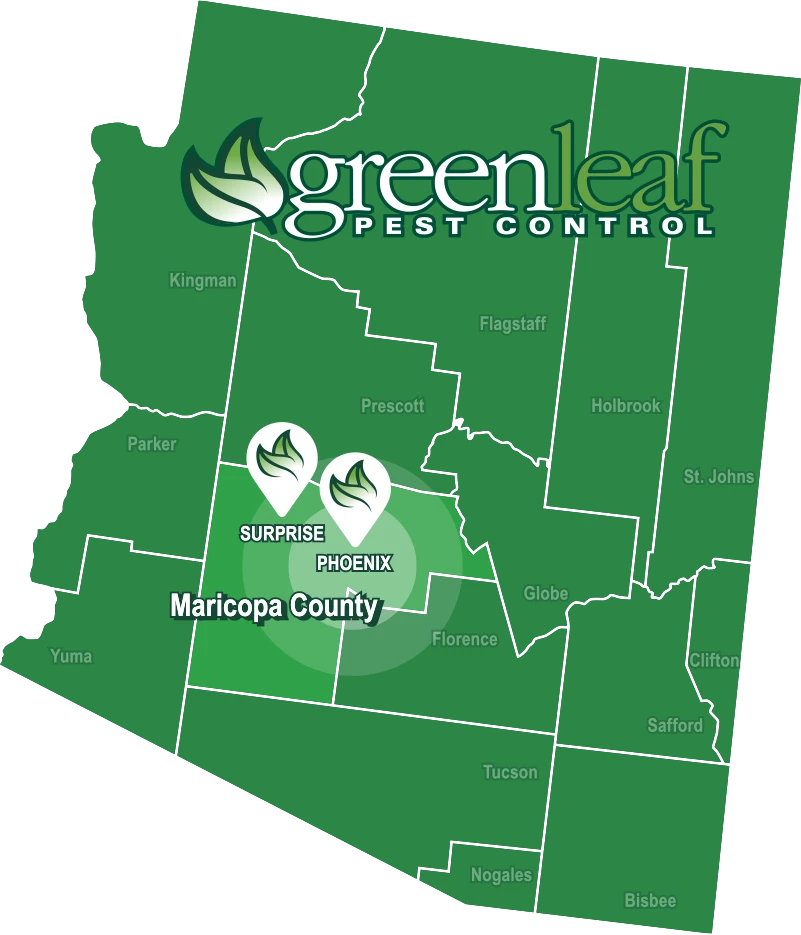 Saving You Time, Money, and Stress Since 2003
We make it our aim to provide the highest quality of service. We understand what pain pests can be, so we strive to make the process a breeze, start to finish.
When you partner with us for pest removal, you can expect:
Same-day service when you call by noon. we'll be at your door, ready to get to work the same day!
A free inspection so we know exactly what we're dealing with, and the best methods of clearing your home.
50% off the initial invoice for all new customers, saving you money while you get to know us.
Free quotes so you can know you're getting the best price for the best service.
Warrantied treatments that lend peace of mind. If pests persist, we'll re-treat your home
Termite Treatment in San Tan Valley
Termite infestations are one of the most serious issues homeowners can experience, and they're a year-round problem here in Arizona. If you notice discarded wings, mud tubes on your home's foundation, and hollow-sounding wood, it's time for a professional termite inspection. Our experts work quickly to identify and eliminate colonies, minimizing the damage they cause, saving you money.
Our termite treatment in San Tan Valley includes:
A free, comprehensive inspection of your home to search for termite damage.
In-ground treatments that create a protective barrier around your property.
Targeted termiticide applications if termites are already inside.
Family-friendly and pet-safe products.
Termite warranties that last up to 5 years and cover re-treatments as needed.
Scorpion Control in San Tan Valley
Our warm, dry air attracts a multitude of different pests, including scorpions. While most scorpions prefer to stay outside in the desert air, sometimes they will find their way into our homes. Don't take chances with these dangerous pests. Greenleaf can help. Our scorpion exterminators have the local experience and pest control knowledge to locate and force them out. 
When you invest in scorpion removal in San Tan Valley, rest assured our services will provide you with the following:
A free inspection

using ultraviolet lighting to sniff out and eradicate these dangerous arachnids.

Same-day service

if contacted by noon. 

Elimination of other pests,

including insects, spiders, and mice that scorpions feed upon.

Use of

only EPA-approved products

for the safety of your family and pets.

Compassionate, friendly, dedicated staf

f who will go the extra mile to ensure your satisfaction. 
100% Satisfaction Guarantee
At Greenleaf, we are so committed to protecting your home and family from the stress of unwanted guests we guarantee our services will work. We are locally owned with an outstanding reputation and high credibility. If you are unhappy for any reason, we will retreat for free. That is our 100% satisfaction guarantee.
Weed Control in San Tan Valley
Pulling weeds by hand is painstaking work, and store-bought weed killers often do more harm than good. If you're looking for a solution that really works, trust our weed control in San Tan Valley. We offer year-round protection from weeds, same-day service, and a satisfaction guarantee!
Our weed control includes:
An

inspection to assess your lawn's current conditions.

Post-emergent solutions

to target existing weeds.

Pre-emergent treatments

to stop new weeds from sprouting.

A six-month warranty that includes

free re-treatments.
Greenleaf Pest Control Reviews