Expert Pest Control Services in El Mirage
What kind of problem are you having? Select all that apply.
Pest Control in El Mirage
Having pests in your home is anything but ideal—they put you and your loved ones at risk for injury and illness, contaminate your food, create messes, and generally disrupt your everyday life. Luckily, it doesn't have to be that way! Our pest control in El Mirage will make infestations in your home a thing of the past. We'll protect your home from a variety of pests, including:
Ants 
Crickets 
Scorpions 
Spiders
Cockroaches 
Earwigs 
SIlverfish 
And more! 
Save 50% When You Sign Up
As a thank you for choosing Greenleaf, we are offering all of our new customers an unbeatable discount. Save 50% on your initial pest control invoice. Our other great coupons have more ways to get great pest control at a great price.
In addition to El Mirage, we also offer our effective pest control services in Surprise and surrounding areas. 
Image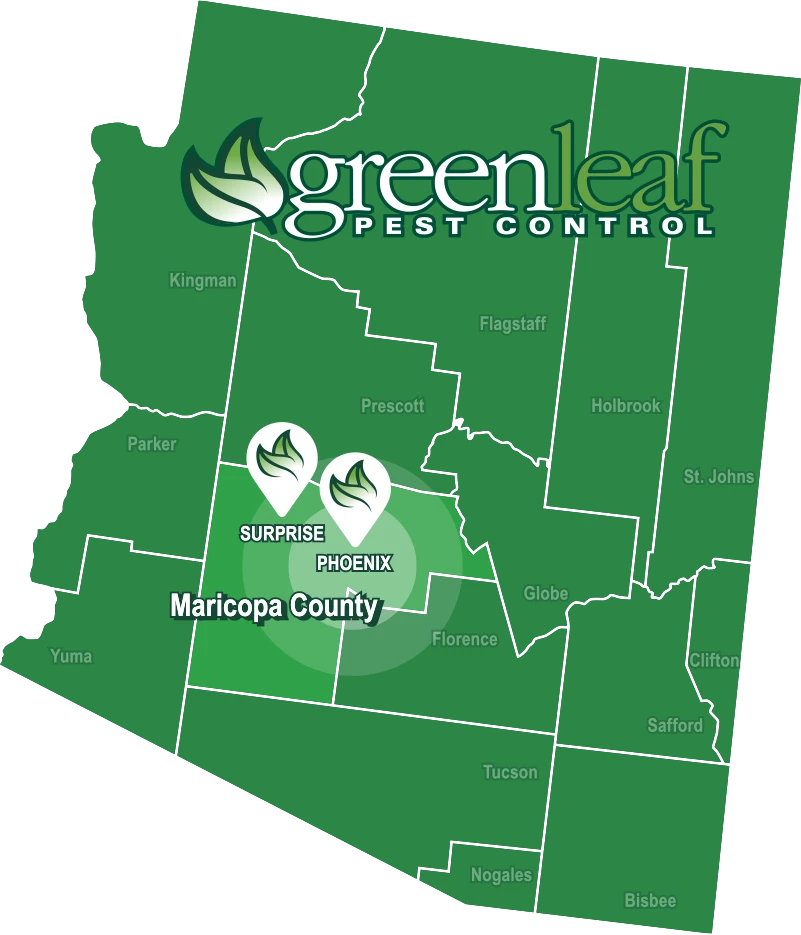 Same-Day Services for Fast Relief
Having pests in your home is already aggravating, which is why we strive to make eliminating them as stress-free as possible. Our exterminators in El Mirage are highly trained, allowing them to quickly pinpoint your pest problem and create a plan to eliminate it, ridding your home of vermin as quickly as possible.
Other convenient aspects of our pest control include:
Same-day service: Call before noon and we'll be there to remedy your pest problem the very same day.
Free inspections: One of our exterminators will thoroughly inspect your home to determine the extent of your infestation and give recommendations on how to move forward.
Free quotes: You can feel confident you're making the right choice with our no-obligation, free quote.
Warrantied treatments: If you aren't happy with the service, neither are we. We'll return and re-treat your home for free.
Termite Treatments in El Mirage
Termites are one of the most infamous pests among homeowners—for good reason. They cause over $5 billion worth of damage annually to homes in the United States. Termites work quickly and quietly, damaging your home without obvious signs of their presence, which is why professional intervention is a necessity. With our reactive and preventative termite treatments in El Mirage, termites don't stand a chance.
Our treatment program includes:
A detailed inspection of your home performed by one of our expert exterminators.
Reactive or preventative treatments that meet your current needs.
Family and pet-friendly treatments.
Top-of-the-line technology, like digital flow-meters that accurately measure the amount of product used.
Guaranteed warranties from one to five years.
Your Satisfaction Guaranteed
We've been employing the best exterminators in El Mirage and using cutting-edge methods since 2003 to deliver the best service to ensure you feel safe in your home. If you are not happy with your service, neither are we. All of our termite treatments are backed by our satisfaction guarantee. Simply give us a call and we'll happily return to re-treat, free of charge.
Scorpion Control in El Mirage
When scorpions invade, time is of the essence. These creatures can be aggressive if provoked, and the sting of the Arizona Bark Scorpion can even be deadly without immediate medical attention. When you turn to Greenleaf, you'll have the security of knowing you'll be working with local experts who are experienced in dealing with scorpions. We even offer same-day service, meaning you won't have to wait for relief from your scorpion invasion. Our treatment program includes:
A free inspection to identify the extent of your scorpion problem.
One of our state-licensed scorpion control service professionals will reduce lizards, spiders, mice, and other scorpion prey to deter scorpions from seeking food in your yard.
We'll identify possible scorpion entry points in your home and personalized recommendations for sealing them.
Our EPA-approved products will reduce scorpion populations in and around your home and discourage more scorpions from invading.
Get Started With A Free Quote!
Be Scorpion-Free—Guaranteed!
When you turn to Greenleaf for protection, you get the security of knowing that your treatment will be backed by a 100% satisfaction guarantee—if you still have scorpion problems after your treatment, we'll return to retreat for free. Those are results you can rely on. Call us today at 623-888-8785 to learn how we can help you take back your home from these dangerous creatures.
Weed Control in El Mirage
Given our warm climate and seasonal rainfall, weeds can present a problem year-round, causing you endless frustration. Thankfully, our team at Greenleaf has been leading weed control service in El Mirage since 2003, meaning we'll have the solutions you need to obtain the immaculate yard you deserve. As a local employer, we value this community and the satisfaction of its people. When you team up with us, you know you're relying on people who care. 
When you partner with us for weed control, you can expect:
A thorough inspection of your property performed by one of our local experts to identify what sort of weeds are plaguing you.
A tailored treatment plan made to suit your specific needs.
Pre-and-post emergent power spray treatments of all rock areas around your home.
The promise of a six-month warranty, so you can rest assured your yard will stay weed-free. If weeds return during the first six months after treatment, we'll return to retreat at no additional cost to you.
Why wait? Call us today at 623-888-8785 to get started with our quality weed control treatment and to get the yard you deserve. 
Greenleaf Pest Control Reviews