Protect Your Home From Pests in Paradise Valley
What kind of problem are you having? Select all that apply.
Pest Control in Paradise Valley
The hot climate of Arizona makes it a hotbed of pest activity all year round, meaning that you need recurring treatments for year-round protection. Our local technicians have all of the skills and equipment to deal with all of your pest problems. If you are dealing with any of these common critters, then make sure to get in touch:
Spiders
Scorpions
Ants
Crickets
Roaches
Earwigs
Mice
Rats
And many more! 
Pest Removal When You Need It
Discovering any critter in your house can be a traumatic experience and we know that you want nothing more than to get rid of the pests as soon as possible. With Greenleaf, that's possible due to our same-day servicing! If you call us before noon, we will be over that very same day for your inspection and treatment!
Image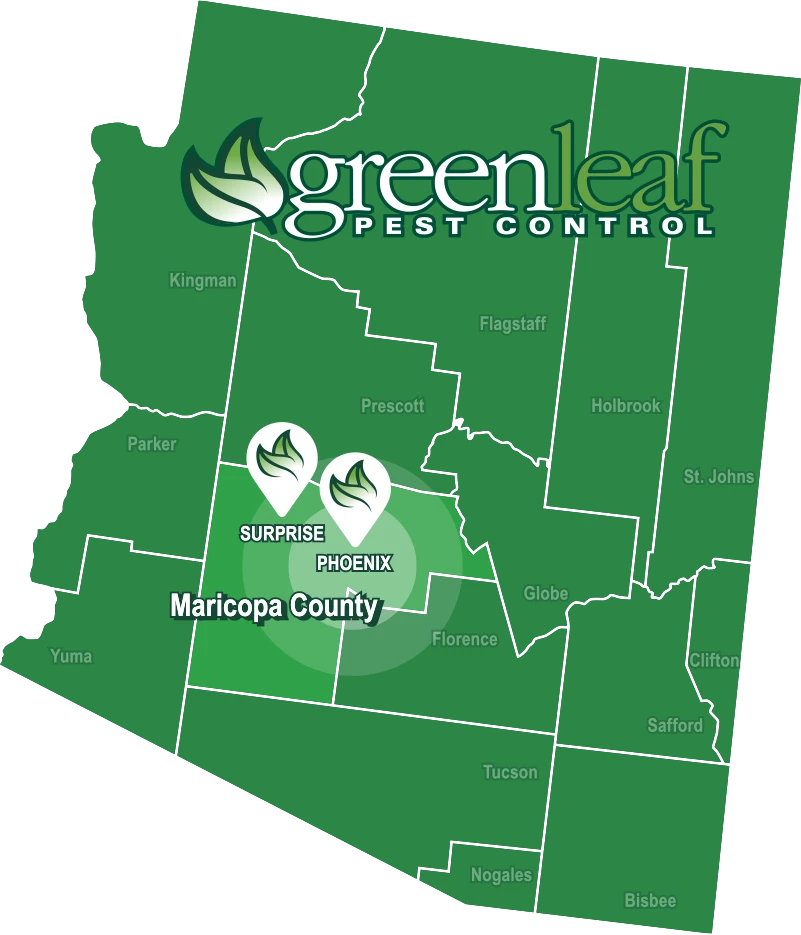 Your One Stop For Complete Pest Control Services
With the rise in store-bought pest treatment availability, we are here to offer you a more complete experience. Between the inherent unreliability and the potential for toxic chemicals, store-bought solutions come with plenty of issues. In contrast, putting your trust in Greenleaf means that you will be in constant communication with trained experts who will answer any questions or concerns you may have.
Furthermore, if you partner with us for treatments in Paradise Valley, you can expect:
Free detailed home inspections to identify nests, as well as possible entry and exit points. 
Specially designed treatment plans that are developed with you by the exterminator to make sure that the treatment will adhere to your needs. 
Active removal using EPA-approved treatment methods to deal with the pests but keep everything else safe. 
Care and professionalism throughout every step of the process. 
Guaranteed removal and if the critters return then so do we! 
In addition to Paradise Valley, we also offer our pest control services in Mesa and beyond.
Exceptional Service at a Great Price 
Finding out that you need pest control can make you worry about the cost, but we believe that cost should never get in the way of people being able to enjoy their homes free of insects and rodents. As a locally owned and operated company, we understand our neighbors' needs and work hard to make sure that we can keep them happy—that's why we are offering 50% off your first pest control invoice!
Termite Treatment in Paradise Valley
American homes suffer $5 billion in damage every year due to termites, which why it's important to treat termite colonies as soon as you suspect an infestation. Our team of local experts uses the most up-to-date treatment methods based on the latest scientific findings, including family and eco-friendly termite treatments to protect you and your loved ones.
When partnering with Greenleaf for termite control, you can expect:
Prompt, same-day service

to protect your home ASAP.

A termite inspection

from one of our experienced termite exterminators.

Warranty options

ranging from 1-5 years.

Reactive and preventative treatments

to get termites gone, or keep them from ever showing up.

Free same-day termite treatment quote!
Termites thrive in warm temperatures—and Arizona has plenty of those! Protect your investment in your home today.
Scorpion Control in Paradise Valley
While this frightening-looking creature typically burrows outside in your soil or under rocks and other debris, they tend to seek shelter inside your home during periods of extreme heat. Here they find refuge in cool, moist areas. If you come across a scorpion or suspect they are present, don't risk trying to control these venomous pests on your own. Call in the professional scorpion exterminators at Greenleaf! 
Our experienced team has been providing scorpion control services in Paradise Valley since 2003 and provides services including:
Free inspection

, including an overview of common entryways and access points.

UV lighting

to find these nocturnal beings and force them from hiding.

The use of only

EPA-approved safe, high-quality products

. 

Elimination of other pests

scorpions feed on, displacing their primary food source.

100% Satisfaction guarantee

. If you are not satisfied, we will retreat for free. 
Fast, Reliable, Same-Day Service
When you suspect or discover scorpions on your property, your family's well-being is at stake. We understand you want fast, prompt service and quick results. Our same-day service means that if you call us before Noon on any given day, we will promptly visit your home and rid your property of these dangerous pests.
Greenleaf Pest Control Reviews