The Best Local Pest Control Company in Mesa
What kind of problem are you having? Select all that apply.
Pest Control in Mesa, AZ
Arizona is full of nuisance pests, many of which would like nothing more than to hide out in your home. That's why Greenleaf Pest Control offers a hassle-free, convenient service that works on your schedule and gets rid of pests for good. At the first sign of an infestation, let us know and we'll be there for you until they're gone forever!
Our highly trained exterminators keep your home safe from a wide variety of unwanted pests, including:
Crickets
Ants
Spiders
Roaches
Silverfish
Earwigs
Scorpions
And many more!
 
Same-Day Service for Fast Relief
At Greenleaf, we think that the point of treatments is to get rid of pests quickly and in a way that lasts. That's why we offer same-day service when you call before noon. There's no need to let critters get comfortable in your home, and when you take advantage of our services today, they won't!
To learn more about our exceptional treatments, check out some reviews of our pest control services in Mesa.
Image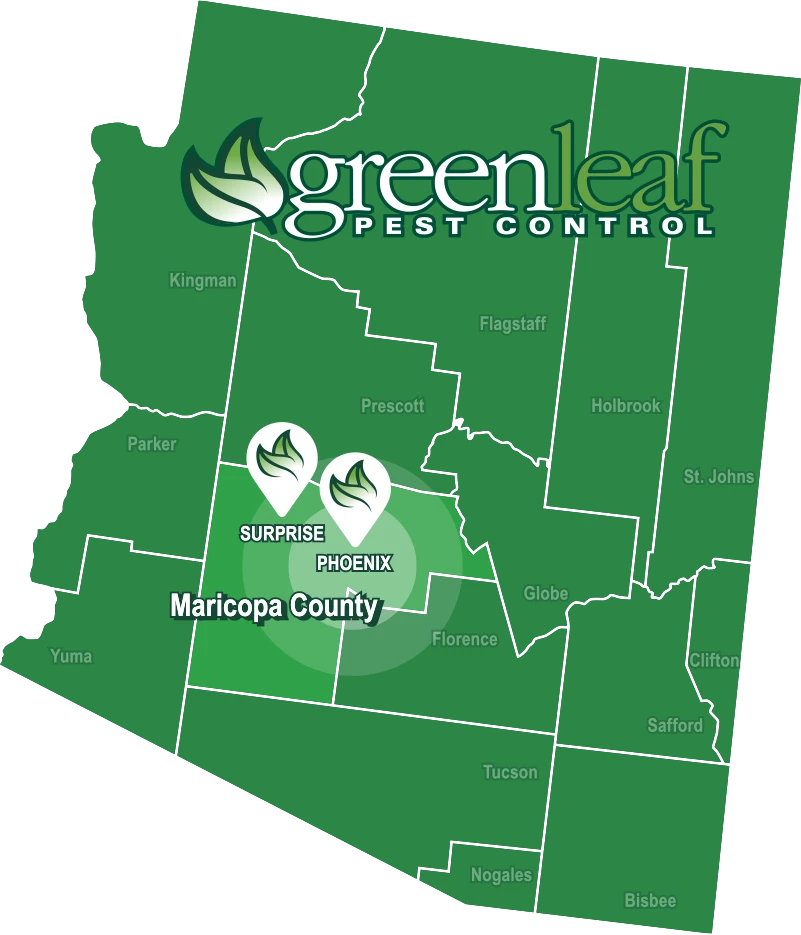 Reactive and Preventative Treatments for Lasting Results
When choosing a pest control company, you want to make sure to choose a team of experts with years of local expertise that can guarantee complete pest removal—at Greenleaf, that's exactly what you'll get! Our comprehensive and personalized treatments are designed to treat current infestations and prevent them from returning.  
Our treatments in Mesa include:
A free and thorough inspection to identify what critters you're dealing with, where they're hiding, and what's attracting them.
Customized treatment plans are designed to remove vermin and prevent them from returning.
Warrantied service to keep your home safe from start to finish.
Guaranteed satisfaction.
And much more!
Your Satisfaction, Guaranteed
All of our services come with a free warranty, ensuring efficient results every time. We believe in our services so much that we back them with a 100% satisfaction guarantee. If pests return between scheduled treatments, an exterminator will return to your property and re-treat at no additional cost to you!
Termite Treatment in Mesa
Termites love the hot climate of Arizona. That's why Greenleaf has developed guaranteed termite treatments that get rid of all live termites in your home and establish a termite-resistant barrier that stops them from coming back. We promise you reliable and complete termite removal to protect your home for years to come. 
Our termite control in Mesa includes:
A free and thorough termite inspection conducted by a local exterminator.
Preventative or retroactive treatments, depending on your unique needs.
In-ground treatment to prevent future termites from entering your home.
In-wall foaming termiticide to eliminate termites currently dwelling in your home.
Service warranties to ensure your satisfaction and happiness.
Family-friendly products to keep your loved ones safe while efficiently removing termites.
Reliable Same-Day Service
Discovering termites in your home can feel like an emergency so we treat it like one. When you call us before noon, we'll have a local termite exterminator to your home that very same day! Waiting around for termite treatment just means more of your home getting eaten away. Don't let that happen and call us today. 
Scorpion Control in Mesa
There aren't many places in America where Scorpions are an everyday concern. Here in Arizona though, scorpions are just a fact of life. At Greenleaf Pest Control, we've been kicking scorpions out of Arizona's homes and keeping them from coming back since 2003 and are ready to do exactly that for you today! 
These armored, prehistoric arachnids have survived as long as they have by being not only tough, but sneaky and clever as well, so hiring a scorpion removal company with both the experience and tools to deliver results is critical. Sign up for our service today and you can expect:
A detailed inspection in and around your home

to figure out exactly how scorpions are getting inside. 

Included insect treatment

to deprive scorpions of their preferred food source. 

Fast, thorough, and lasting removal

and any scorpions currently in your home. 

Friendly and dependable service

from Arizona's most-trusted scorpion exterminators. 

Available same-day appointments

so you can get the help you need as soon as possible. 

And more!
Rodent Control in Mesa
There's no two ways about it, a rodent infestation in your home is bad news. Even a small one can result in significant damage to both your home's wooden fixtures and electrical wiring, food contamination, painful and easily infected bites, and even the transmission of dangerous diseases! It should come as no surprise then, that DIY mouse and rat control simply won't get the job done. Rather, dependable and experienced rodent control in Mesa is your best bet to kick rats and mice out of your home for good.
With the experienced experts and Greenleaf Pest Control on your side, you can expect:
A thorough home inspection

from an experienced rodent exterminator. 

Comprehensive and long-lasting

mouse and rat removal. 

Rodent exclusion treatments

which prevent new infestations from occurring. 

Protection from rodent-borne diseases

like Hantavirus, Typhus, and even Bubonic Plague which is endemic to the Southwestern United States.  

Warrantied service

for your peace of mind. 

Available same-day appointments

to resolve your rat and mouse problems as quickly as we can. 

Our

full satisfaction guarantee with available retreatments

if you aren't happy. 

And more!
Areas We Service Around Mesa
Outside of Mesa, we are proud to offer our outstanding services in other areas, including:
Additional Services in Mesa
Greenleaf Pest Control Reviews