Guard Your Home With Chandler's Best Pest Control
What kind of problem are you having? Select all that apply.
Pest Control in Chandler
At Greenleaf Pest Control, you can expect quality and value for money. It's a simple approach but one that gets the results that you want for your home at rates you can feel good about. Our pest control in Chandler is convenient, hassle-free, and effective and by the time we're done working for you, your home will be cleaner than ever. Customer service is central to everything we do and we'll go all out to make sure that you'll have a pest-free home. 
When you partner with Greenleaf, you can expect:
Highly-trained and experienced exterminators.
Comprehensive protection from all common household pests.
Solution-oriented pest removal treatments for your home.
Warrantied service to ensure your complete satisfaction.
And more!
100% Guaranteed Satisfaction
Being able to count on your pest control company isn't a lot to ask for. That's why, when you choose us, we guarantee your satisfaction or we'll do everything we can to make it right. If you aren't happy with our service for any reason, we'll come back to your home and perform a free re-treatment. Once you give us a chance, we're confident that you'll see the difference that working with a team of service-oriented professionals can make. 
Image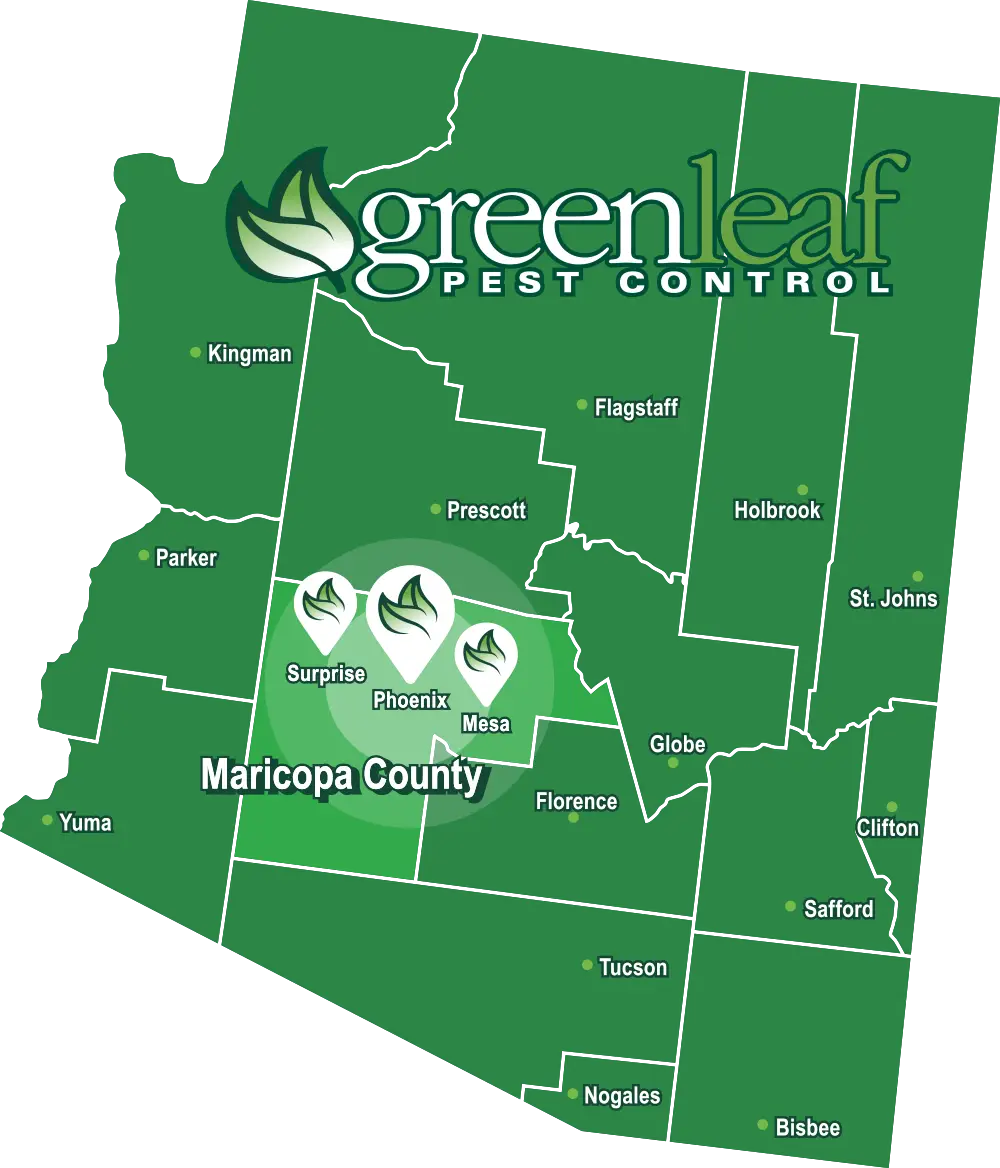 Quality Pest Control Since 2003
We believe that finding effective pest control treatments should never be harder than a pest infestation—that's why we pride ourselves on our hassle-free service. Everyone from our customer service professionals to our technicians is here to make your experience as pleasant as can be by offering benefits including:
Same-Day Service: When you call before noon, we'll make sure that your house gets treated that very same day! Don't wait around to get rid of pests - get rid of them right now. 
Free Inspections: Each of our services starts with a free inspection to discern your exact needs and to create a plan of action. 
Free Quotes: Before you put pen to paper, we'll make sure that you know precisely what you're signing up for so you'll never have a surprise expense. At Greenleaf Pest Control, there are never any obligations so if you decide that our service isn't for you, you aren't on the hook for a thing. 
We offer our pest control services in the Mesa area.
Termite Exterminator in Chandler
When you trust Greenleaf, you can rest assured that your home is protected. Our termite treatment program brings our full arsenal to bear in defense of your home. Between our high-tech approach, skilled service professionals, and dedication to customer service, termites don't stand a chance!
Our termite control program includes:
Top-to-bottom home inspections from local termite exterminators.
Your choice of preventative or retroactive treatments, depending on your needs.
Safe and family-friendly termite removal.
In-ground treatments to keep termites from entering your home.
In-wall foaming termiticide to eliminate all termites currently in the home. 
Treatment warranties to keep your home safe. 
Innovative technology that helps us target treatment areas and reduce product waste. 
A 100% satisfaction guarantee—we offer free re-treatments and will keep working for you until the job is done.
Receive A Free, Same-Day Termite Quote
Flexible Scheduling with Same-Day Service 
Time matters when it comes to termites. Our exterminators in Chandler won't make you wait for help. That's why we offer available same-day service when you call before noon. The moment you see termites in your home, let us know! Additionally, we offer fast, convenient, and free quotes over the phone when you call 623-888-8785.
Scorpion Exterminator in Chandler
Scorpions are a common pest in Arizona, and also a dangerous one. They easily become aggressive, putting you and your loved ones at risk. Instead of using DIY treatments to get rid of pests, trust our scorpion control in Chandler. We get the job done safely and quickly, so you don't have to worry about unwanted scorpions hiding in your home.
When you partner with us for scorpion removal, we will:
Inspect your property

 to find where scorpions are hiding.

Identify potential entry points and customize treatment

based on your home's needs.

Use EPA-approved products

to eliminate scorpions and other pests that they feed on.

Treat as soon as the same day

, so you don't have to wait for relief.

Re-treat for free

if you see scorpions after our first visit.