Keep Your Home Pest-Free in Gilbert
What kind of problem are you having? Select all that apply.
Pest Control in Gilbert
When you choose to work with Greenleaf Pest Control, we want you to feel confident that you've made the right choice. Since 2003, we've provided Arizonans with pest control they can count on at prices they can afford. Our pest control in Gilbert is no different. So, in picking Greenleaf, you can rest assured that you're picking a pest control company that can give you the results you need. There are so many reasons to choose us, but a few of our favorites include:
Our team of expertly trained exterminators.
Our comprehensive pest removal and exclusion plans.
Our warrantied service ensures that your home stays safe during our treatments.
Our 100% satisfaction guarantee and free retreatments.
And many more!
Locally-Owned and Operated Since 2003
As a proud locally-owned and operated company, we know Arizona's pest control needs inside and out. Whether it's a scorpion, a tarantula, a cockroach, or any of our other local critters, we have the regional knowledge and experience needed to take care of your home.
Image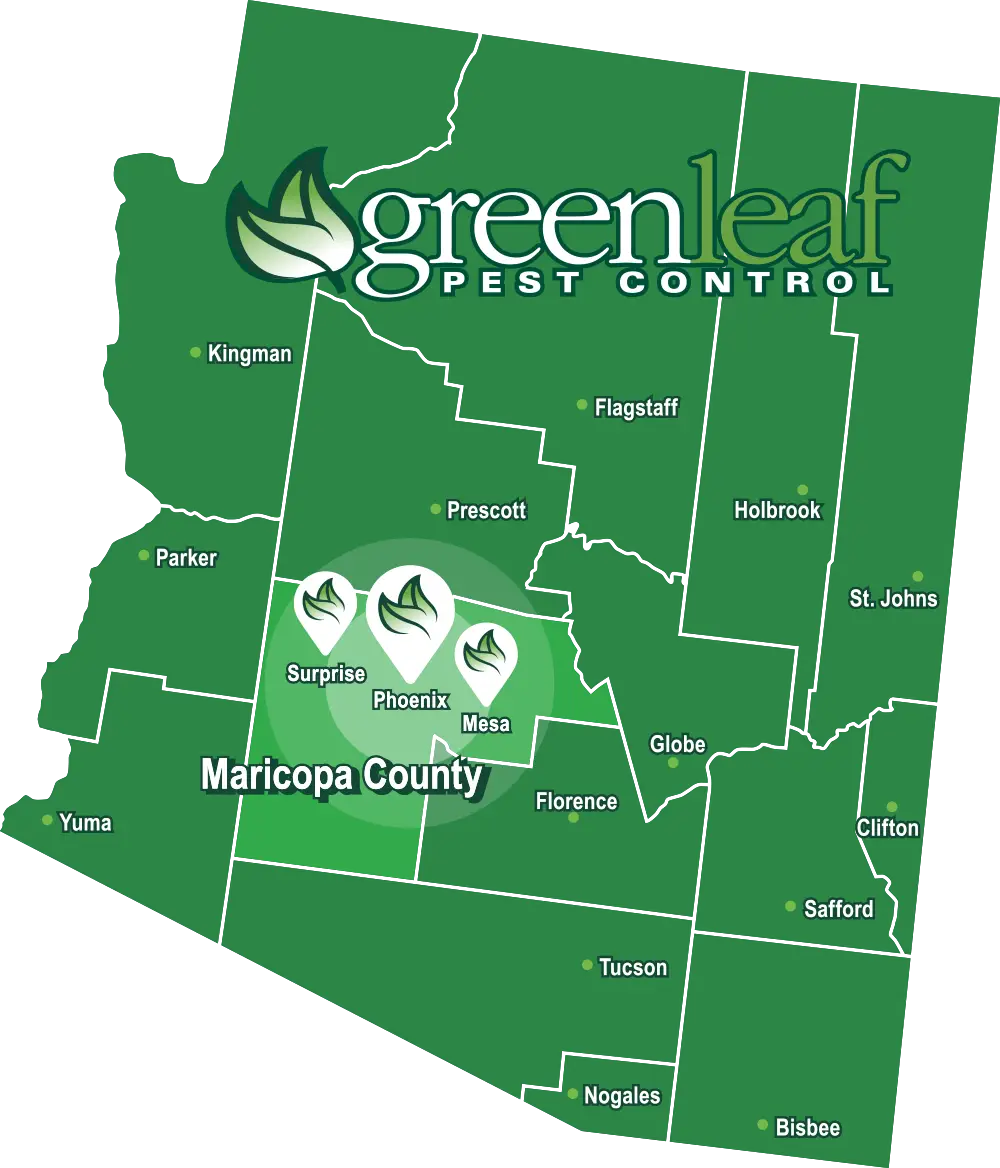 Flexible Scheduling Options with Same-Day Services
At Greenleaf, we make getting rid of pests in your home as easy as possible. Part of how we accomplish this is ensuring that every step of the process is quick, easy, and convenient, including: 
Free Quotes: Before our service begins, we'll always provide you with a free quote so that you know precisely what you can expect. 
Free Inspections: Prior to any of our treatments, you'll receive a free inspection in your home. This way, our local exterminators can assess the extent of your infestation and develop a customized solution that fits your needs. 
Available Same-Day Service: When you call us before noon, our team of pest exterminators can be with you that very same day! Waiting for service isn't something that we want any of our valued clients to have to do. So, when you choose to work with Greenleaf, you never will!
Termite Exterminator in Gilbert
A termite infestation is one of the worst, most unsettling experiences that any homeowner can have. It's at times like those that it's useful to have the experts on your side to give you the best termite control in Gilbert. At Greenleaf, you're under the protection of the area's best service professionals who will have your home termite-free in no time. Fast, complete termite removal and long-lasting prevention are our pledges to you, so don't wait for another second to put us to work!
Our termite control program includes:
A comprehensive and free termite inspection conducted by a local expert. 
Preventative or retroactive treatments, depending on what you need.
In-ground and in-wall treatments to prevent more termites from getting in and eliminating the ones that are already there. 
Service warranties to ensure your safety. 
Family-friendly products to keep your loved ones safe. 
And more!
Scorpion Exterminator in Gilbert
Finding scorpions around your home can be scary, especially if you have kids or pets. That's why we offer same-day scorpion control in Gilbert. Not only will we eliminate pests, but we'll also block off small cracks and crevices that they use to enter your home. This makes it difficult for scorpions to return and gives you peace of mind that lasts. We also offer same-day service, so you don't have to wait.
Our scorpion removal includes:
A free quote to make sure we are as transparent as possible with our services.

A free, comprehensive inspection

to find scorpions.

EPA-approved products

that are tough on pests but safe for your family.

Comprehensive pest control

to eliminate other insects that scorpions are eating.

Protection from a variety of scorpions

, including the dangerous Arizona Bark Scorpion.

Guarantee results

—if your pest problem continues, we'll re-treat for free.
Weed Control in Gilbert
Everyone deserves a lawn they can be proud of—one without unsightly weeds like clover and spurge. While trying to eliminate weeds on your own is difficult and often unsuccessful, they don't stand a chance against our weed control in Gilbert. We combine reactive and preventative treatments to keep your lawn weed-free all year long!
When you choose our weed control, we will:
Inspect your property

to identify what weeds are present.

Create a tailored treatment plan

and schedule our first visit as soon as possible.

Target existing weeds

with post-emergent treatments.

Apply a pre-emergent solution

to prevent new weeds from germinating.

Offer a six-month warranty

for your peace of mind.
Your Satisfaction—Guaranteed
When it comes to an asset like your home, you can't afford to settle for anything less than total confidence in your pest control company. That's why, at Greenleaf, we back up our service with a 100% satisfaction guarantee! Additionally, if termites return, we will too. Just give us a call and a termite control specialist will come to your home to perform any necessary re-treatments at no extra cost. 
Not in Gilbert? We offer pest control in Mesa and the surrounding area.