Weed Control in Arizona
Here at Greenleaf, we always win the battle against weeds by utilizing a combination of pre-emergent and post-emergent herbicides to strategically treat your yard throughout the year—taking the weather and elements into consideration. When you add weed control as part of your complete pest control program, you'll get protection and care for all the rock areas throughout your yard! 
Local Experts That Offer Proven Results
Greenleaf Pest Control is locally owned and operated right here, and we've been happily serving our community since 2003! We have years of experience providing weed prevention and spray services in Arizona, so we know exactly what we're dealing with. All of our experts are highly trained to apply our treatment with care and precision, keeping your family safe while we defend your healthy lawn. 
Personalized Weed Control and Prevention
How many times have you pulled weeds in your yard, only to find that new ones have sprouted up again seemingly overnight? At Greenleaf, we're committed to treating your weed problems reactively and proactively, preventing them from ever bothering you again.
When you sign up for treatments, we will:
Inspect your yard to determine your individual problem. 
Recommend a customized plan and schedule the treatment immediately. 
Apply pre and post-emergent weed killer with a power sprayer. 
Weed prevention services to keep your lawn weed-free year-round.
Treat all rock areas of the home since Arizona is desert and most yards consist of a lot of rock.
Offer a six-month warranty because we stand behind the quality of our service.
Same-Day Service
Don't let weeds take over your yard for a day longer! Why wait to have a healthier yard? At Greenleaf Pest Control, we offer same-day service for our customers. Call our office before noon and we will begin spraying for weeds ASAP. 
Save 20% off your initial weed service
Year-Round Protection From Weeds
Our successful weed spray treatment plan involves:
A pre-emergent weed killer to prevent the seeds from germinating so weeds don't appear in the first place.
The post-emergent treatment to kill any that have already sprouted. 
A 100% satisfaction guarantee. If weeds return during your six-month warranty, we come back and re-spray for free!
Looking for more great ways you can save? Check out our other great coupons for more ways Greenleaf is committed to protecting both your yard and wallet.
3 Main Types Of Weeds
There are 3 types of weeds: annual, biennial, and perennial. The most common weeds in Arizona are annual weeds. These include crabgrass, foxtail, and pigweed. 
Annual weeds: Grow from seed each year and die after they produce seed.
Biennial weeds: Grow from seed one year and produce flowers and seeds the next year. They then die off. 
Perennial weeds: Live for several years and produce flowers and seeds each year.
Military Discount on Weed Control
Greenleaf Pest Control is proud to support our troops. As a way of saying thank you, we're offering 30% off an initial weed control service to all active military personnel and veterans. Contact our experts today to save money on a weed-free yard. 
What's Included in This Service
Areas We Service Around Phoenix, Arizona
At Greenleaf Pest Control, we've been providing the highest quality of pest control services in Maricopa County since 2003. Our pest control company is proud to serve our friends and neighbors in the following communities:
Image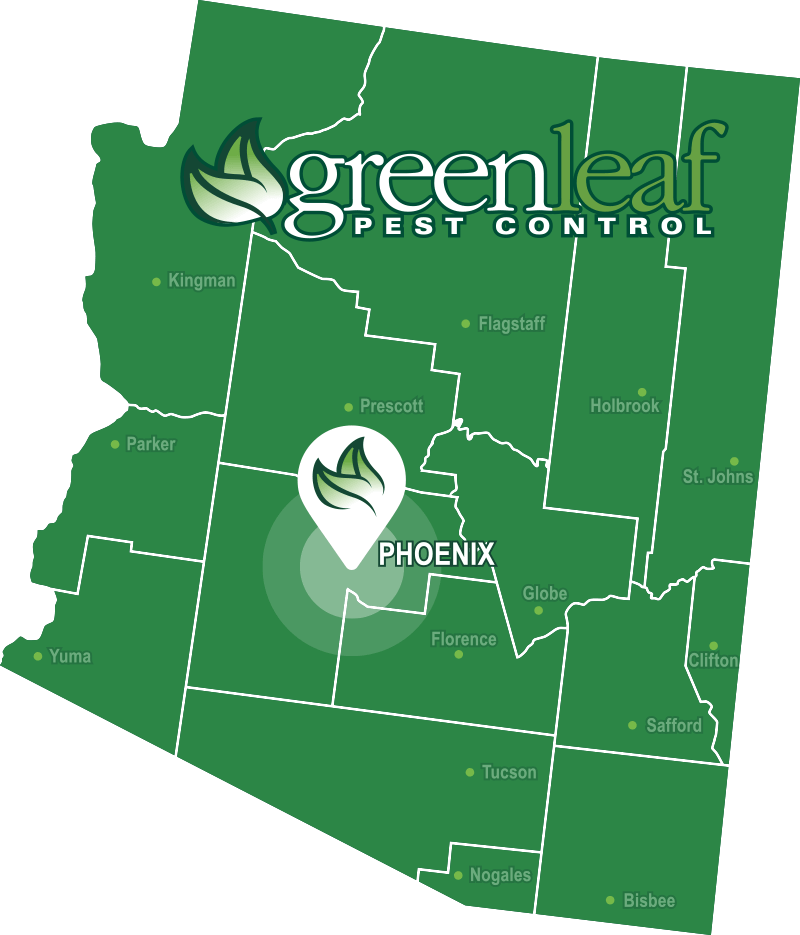 Check Out Our Other Services
Greenleaf Pest Control Reviews
Common Questions Customers Ask Our Pros