The Best Local Pest Control Company in Phoenix
What kind of problem are you having? Select all that apply.
Pest Control in Phoenix
Here in Arizona, we deal with a lot of creepy crawlies, which makes finding pests in your home inevitable. Luckily, they don't have to stay there! No matter the size of your infestation, our pest control in Phoenix has your back. We'll keep you protected from a variety of critters, including:
Crickets
Ants
Spiders
Roaches
Silverfish
Earwigs
Scorpions
And more!
Save 50% on Your Initial Invoice
Here at Greenleaf, we believe that great pest control shouldn't break the bank. That's why we're offering our new customers 50% off your first invoice when you sign up for our year-long agreement. Check out our other coupons for even more ways to save!
Image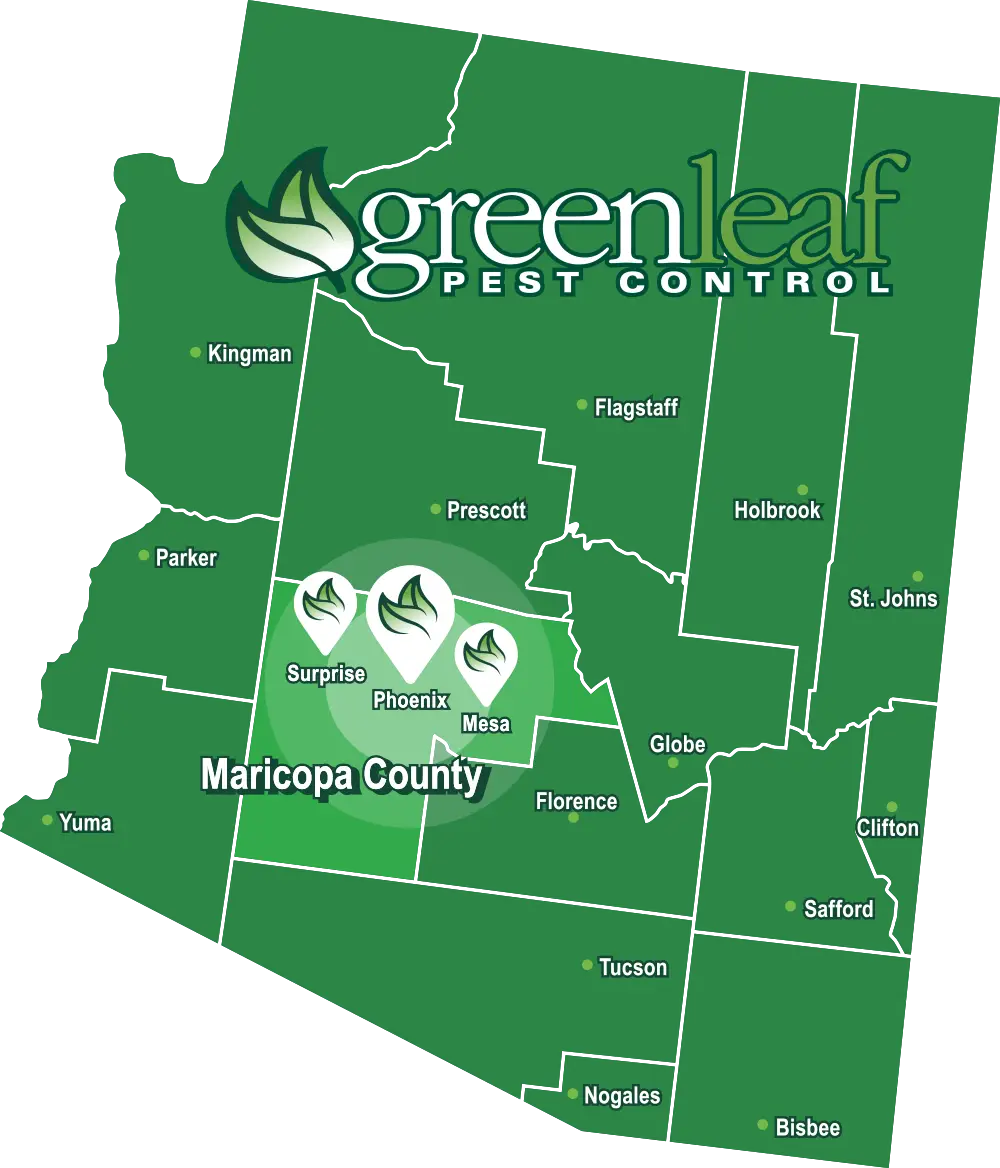 Personalized Service with Proven Results
No one wants to deal with pests, which is why we strive to make our treatments as quick and hassle-free as possible. Our team cares about you and your family, which shows every time they go above and beyond to ensure you are satisfied with our services. When you trust us for your needs, you can expect:
Free, no-obligation quotes so you can feel confident you're making the right choice.
Thorough inspections performed by one of our service professionals to assess your current pest problem.
Custom treatment options based on our findings and your home's needs.
Elimination of all current vermin in your home using safe, proven products.
Our satisfaction guarantee—we aren't happy unless you are!
Same-Day Services for Fast Relief
When your home has been invaded by pests, you shouldn't have to wait for relief. That's why we're proud to offer same-day services, eliminating the infestation as fast as possible. All you have to do is give us a call before noon!
Termite Exterminator in Phoenix
Homeowners in Phoenix are very susceptible to termite infestations—mostly because of our high temperatures all year round. These insects can be a very serious problem, potentially costing you thousands of dollars in structural damage. If you suspect you are dealing with a termite infestation, you want to act fast by getting it checked out by our service professionals.
Get Same-Day Treatments
We understand the urgency when dealing with termite problems and we want to ensure that we catch the problem very early—so we offer same-day services! When you choose our treatments, you can expect the following:
Same-day service to get you fast answers and treatment recommendations.
A thorough inspection in your home to determine the severity of your infestation.
The use of family- and pet-friendly treatments.
A variety of methods customized to your needs, including in-ground liquid treatments and in-wall foaming treatments.
Digital monitors to confirm enough product is used during treatment.
Guaranteed warranties that vary from one-five years.
Weed Control in Phoenix
Nothing ruins the appearance of your carefully cultivated landscape like weeds popping up everywhere! Weeds in Arizona still thrive despite our desert climate, including thistle, broadleaf grass, dandelions, foxtail, and more. Our comprehensive treatments also come with a six-month warranty, giving you the peace of mind you deserve.
When you choose us for weed control in Phoenix, you'll receive the following from your technician:
An inspection to identify the type of weeds you're dealing with.
A customized approach to your landscape's needs.
Pre-and-post-emergent spray treatments to stop them in their tracks and keep them gone.