The Most Reliable Pest Control in Cave Creek
What kind of problem are you having? Select all that apply.
Pest Control in Cave Creek
Here in Arizona, the overwhelming heat can invite insects into your home for refuge. At Greenleaf Pest Control, we don't want you to fall victim to pests capable of putting your family and pets at risk. We pride ourselves on our ability to provide exceptional pest control, protecting families and homes just like yours.
With our pest control in Cave Creek, you will be protected against:
Crickets 
Spiders
Silverfish 
Scorpions 
Ants 
Roaches 
Earwigs 
And many more! 
100% Satisfaction Guaranteed!
Here at Greenleaf, we take pride in ensuring our customers are happy and the job is done right. If you are not completely satisfied with our services, we will return to your home to re-treat the area for free! No tricks, no gimmicks, just a hassle-free guarantee that we stand by with all of our services.
Outside of Cave Creek, we also offer our guaranteed pest services in Phoenix and beyond.
Image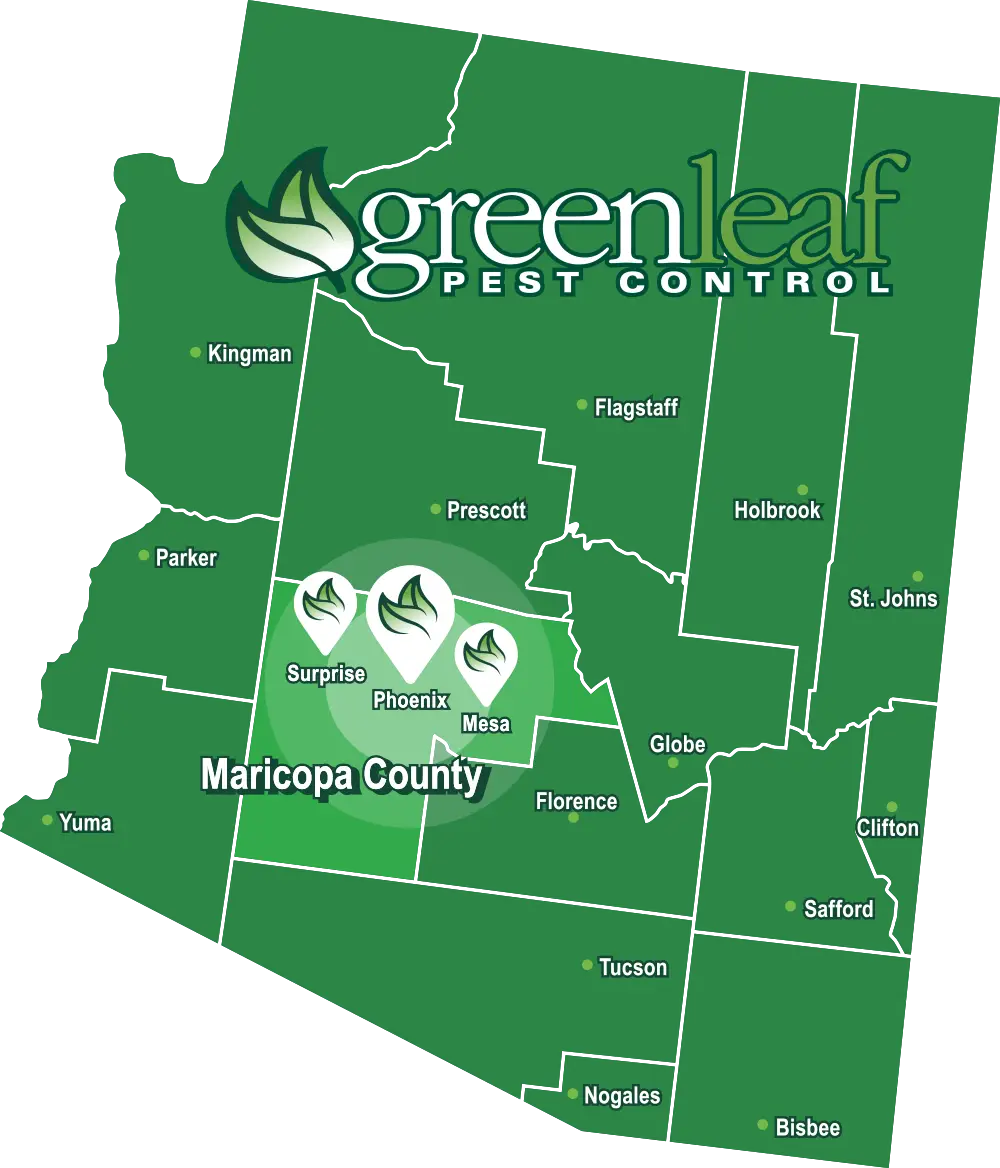 Locally Owned and Operated Pest Control
We understand that a pest infestation can be a stressful period of your life. To make things a bit easier for you, we will gladly go above and beyond the call of duty to ensure you are satisfied with everything we are doing to help with your pest problem.
Here's what we can do for you:
Same-Day Services—The moment you hang up the phone, we will arrange for a service professional to show up at your house that same day!
Free Home Evaluations—Not sure whether you have an infestation?  We will come to your house to diagnose the problem for free!
Free Quotes—We are glad to have you in our corner, which is why our quotes come at no charge to you.   
Treatment Warranties—We offer a service guarantee with all of our pest control programs.  If you are not 100% satisfied with the results of our treatment, we will come back out as soon as possible to re-treat your home for free.
Termite Exterminator in Cave Creek
In our warm state of Arizona, termites thrive—which means danger for your home! These insects can cause rapid and lasting damage to your home that can cost you hundreds of thousands of dollars to repair. You can rely on our trained termite extermination service professionals to protect your home, whether you already have an infestation or simply want to prevent a future invasion.
Our termite control Cave Creek includes:
A free inspection of your home to identify infestations or possible entry points.
Treatments that are completely child and pet safe and careful adherence to all guidelines and regulations to protect you and your loved ones.
Guaranteed satisfaction with our one-to-five-year warranties—or we'll retreat for free!
In-ground perimeter treatments of your home and in-wall foaming insecticide treatments to protect your home from the outside in. 
Same-Day Service For Quick Results
Every day you allow termites to infest your home, they cause more damage to your home, raising the cost of repairs higher and higher. Our team at Greenleaf is serious about protecting you from unnecessary financial damage and frustration, so we act fast and offer same-day service when you call us.
Scorpion Exterminator in Cave Creek
Many species of scorpion are venomous and some species, like the Arizona Bark Scorpion, can even be fatal. What's worse, these creatures are nocturnal and will lurk in your yard under lawn furniture or woodpiles and invade your home to escape the heat and sun, and they can be aggressive if threatened or surprised. Don't tackle them alone!
Our scorpion control program includes:
Same-day service for fast relief when you call before noon.
A free inspection to identify scorpion breeding grounds and entry points in your home performed by one of our local Cave Creek exterminators.  
EPA-approved solutions that treat your home and property to destroy breeding sites and eliminate any scorpions we find without harming your loved ones.
Identification of any existing entry points in your house and customized solutions for you to close them to avoid further invasions.
The removal of prey that scorpions feed on, such as spiders, mice, and insects, deterring scorpions from visiting your yard
Weed Control in Cave Creek
Weeds in your yard are not only unsightly and frustrating but removing them on your own is a time-consuming process that rarely works for long. Instead of wasting your time fighting and removing weeds on your own, rely on our expert team at Greenleaf to help you with weed control in Cave Creek. 
Your Yard Will Be Weed-Free Or We'll Retreat
Why let your beautiful yard be ruined by weeds? Our professionals at Greenleaf are here to help you protect the yard you've worked so hard to create. Our weed control treatments include:
An inspection of your property by a service professional to figure out what sort of weeds are invading your yard and customize and schedule your treatments. 
Pre-and post-emergent treatments to remove weeds that are already there and prevent new ones from sprouting.
A six-month warranty—if weeds return within the first six months after treatment, we'll retreat for free.
A special offer that will allow you to save 20% on your initial invoice.